Turn Your Vacation into a True Cultural Immersion Experience

You are ready to explore Latin America and want to talk to the locals and practice your newfound Spanish skills.  You bought the plane ticket, booked the hotel, and looked up some local attractions. But are you really ready to take advantage of a full cultural immersion experience?
You could just take a relaxing vacation…or you could have a transformational vacation. If used wisely, this trip could change everything:  your perspectives, your language learning motivation, your circle of friends, and your confidence just to name a few.
A vacation that provides a truly immersive experience takes some intentionality and planning, but it will be well worth the extra effort. If you want to have a great vacation while meeting new people, learning more Spanish, and growing personally, follow the steps below:
Pre-Trip Prep
Although a last-minute trip to Costa Rica sounds luxurious and exciting, if you want your trip to become a language learning opportunity you are going to need to arrive prepared.
Here's how:
1) Keep Abreast of Local News
If you want to interact with the locals, you are going to need something to talk about.  Start reading local news sources 4 – 6 weeks before your trip.  You can find them by doing a simple search for "noticias" and the name of the place you're visiting.
You can also find an extensive list here: 47 Authentic News Sites for Instant Spanish Immersion.
Keeping up with one or two news sources based in the city and country you are visiting will make you informed about the current events and concerns of the local population.  It will also give you good reading and listening practice in Spanish.
If you read something that might spark a good conversation, jot the topic or idea down and take the list with you on your trip. That way you will always have a few quality conversation starters in your back pocket.
2) Learn Regionalismos
Warning: Spanish speakers have never read your Spanish textbook or course material. In their everyday lives, they will use words you may have never heard.
Most of them will probably be regionalismos, or words specific to that region. This catches many travelers off guard, but if you familiarize yourself ahead of time you will be much more prepared and feel more comfortable with conversing in Spanish.
See: What Type of Spanish Should I Learn
Learn regional words, phrases, and slang by finding country-specific websites, podcasts, and courses. Spanish Pod 101 has a great regional Spanish series, which features courses for Spanish from Spain, Mexico, Peru, and Costa Rica.  If you're traveling to the Caribbean, a notoriously difficult Spanish dialect, you can try one of the Caribbean Spanish courses for Cuba, Dominican Republic, or Puerto Rico.
3) Get a Language Partner
This is an even better way to get used to the way the locals speak. You can use a language exchange site, app, or social media to connect with a native Spanish speaker from or living in the area you are traveling to
Your language partner can help you practice speaking, explain the customs and culture of your destination and help you learn to speak and understand local language.
See: The 6 Best Sites and Apps for Finding Spanish Conversation Partners
4) Connect on Social Media
Guidebooks are great if you want to be a tourist, but advice from real people is what you need to experience your destination like a local. Use social media to connect with people who are already in your destination.  This could be an expat community or other local group. Ask for ideas of where to go, what to see, and things to do.  Sites like AirBnB also have local experiences that you can sign up for to experience your destination with a local.
5) Find a Language School
You are probably thinking "Come on! I want to go on a vacation, not to school!"
You don't have to enroll in an intensive language course, but attending a language school while traveling is a great way to ease yourself into speaking Spanish—especially if you haven't used Spanish in your daily life.
You can often find affordable group classes that are just a few hours a day.  Group classes are a great way to meet other travelers and get the inside scoop on the best places to visit.  If group classes aren't your thing, arrange your own private lessons so you can focus on specific skills.  Don't be afraid to ask your teacher for recommendations for places to visit during breaks.
Many language schools also host social activities, excursions, and can help you adjust to being immersed in the local culture.  This can be especially helpful if you are traveling alone.
A hallmark of most language school experiences is the home stay.  This offers you the opportunity to stay with a local family, which is hands down the best way to experience life in the country in an authentic way.
6) Learn Customs and Culture
Each culture has its own customs and unspoken rules that you will need to learn.  Find out how people greet each other (what they say and DO), how to order food (some countries are more formal than others), how to dress appropriately, and if there are any holidays taking place during your visit.  This will help you feel more comfortable and prepared for your trip.
If you want some more guidance, Coursera's Spanish Vocabulary Project offers a great course that walks you through detailed practice exercises to help you prepare for your trip abroad.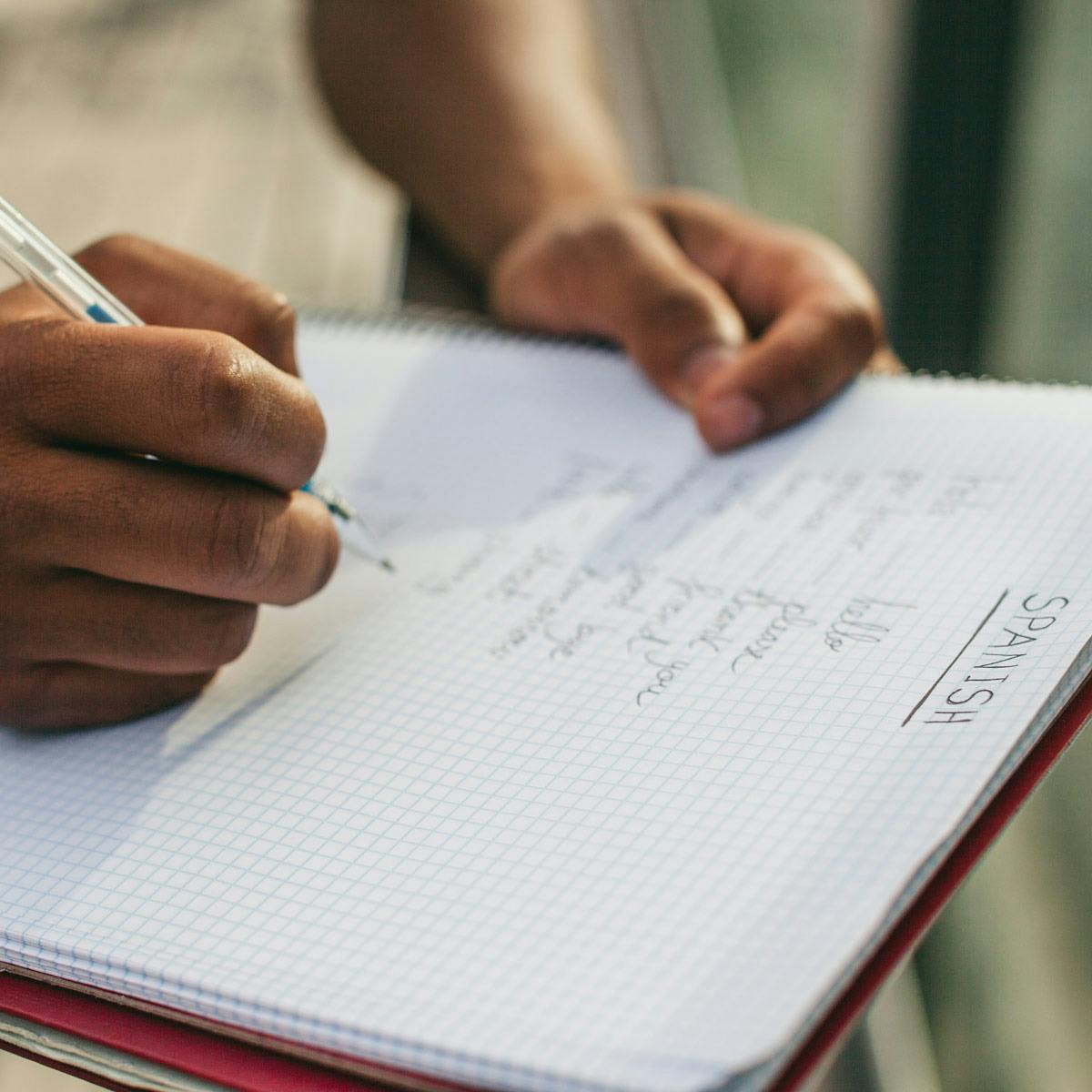 Here's a snapshot of the course:
When You Get There…
Now you have spent weeks preparing for your trip, you are ready to explore your new destination. You don't want all of your preparation to go to waste, so make sure you make the most of your time there.  Traveling can be stressful, and often everything doesn't go as planned.
To get the most out of your experience, here are a few things to keep in mind:
Ditch the Hotel Room
It may be enticing to have meals at your hotel or just hang out by the pool. If you need to refresh after a long day of travel, take some time to recharge but don't spend too much time in relaxation mode.
The more you push yourself out of your comfort zone, the more meaningful your trip will be.  So get out of the regular tourist areas, break away from your friends for a few hours if you are traveling with a group, and experience the country.
Find out the signature local dish and go to a restaurant where residents go for lunch and dinner.  Try some authentic cuisine, go to the grocery store, or just wander about (during the daytime and in safe areas of course).

Talk to People
I'm naturally introverted, so personally this one is hard. I am not the kind of person who just strikes up a conversation with a stranger.
That being said, when I'm traveling I tend to be more open and remind myself that most likely, I will never see the people I meet again.
I have seen first-hand the huge difference in language growth between those who go out and talk to anyone and everyone no matter how bad they sound, and those who sit quietly and say nothing.
It doesn't take much to strike up a conversation.  Ask a local a simple question, even about something as mundane as the weather, and you will probably end up in a long conversation about where you are from, what you are doing there, and places to visit.
You just have to be brave and take the initiative.  Don't overthink it, just start speaking and you'll be surprised how much you can communicate and learn in a simple conversation.
Get Out of Your Comfort Zone
Do things that are fun and interesting. If someone recommends hiking up a mountain to see a waterfall, try it out.  You may never have the opportunity to see it again!  It's through these types of novel experiences that we are able to enjoy ourselves, connect with others around us, and learn more about ourselves and the place we are visiting.
There you have it, a plan to go on a vacation beyond the normal tourist experience.  You can have the time of your life AND practice your Spanish.  Try new things, explore real life in the country, and create memories and experiences that will last a lifetime.
Above all else, relax and enjoy your trip.
¡Buen viaje!
✕
Learn Spanish the Way It's Really Spoken!
Get your nose out of textbooks and start speaking Spanish!
Join 2,802 other aspiring bilinguals that are learning to speak Spanish with real people.
We'll send our best advice and resources for how to learn conversational Spanish, PLUS giveaways of the best resources for learning Spanish directly to your inbox.
¡Hola! My name is Tamara Marie. I'm a language coach specializing in brain-friendly methods to learn foreign languages faster. I speak English (US native), Spanish (advanced), and Brazilian Portuguese (beginner). I'm a Latin music & dance addict and passionate about helping people learn languages.